LoFi Beats Suicide

A suicide prevention campaign in
collaboration with VICE and
YouTube channel College Music.
Problem
1 in 5 students have suicidal
thoughts, but don't seek help.
Cultural Context
"Lo-fi study beats" is a YouTube phenomenon where millions of students tune in to relax and focus as they study, featuring lo-fi music and an animation of a girl studying in a constant loop.
Livestream
During exam season, we interrupted one of the most popular streams of lo-fi study beats for the first time in over 2 years. Sending a powerful message of support directly to students when they most needed it.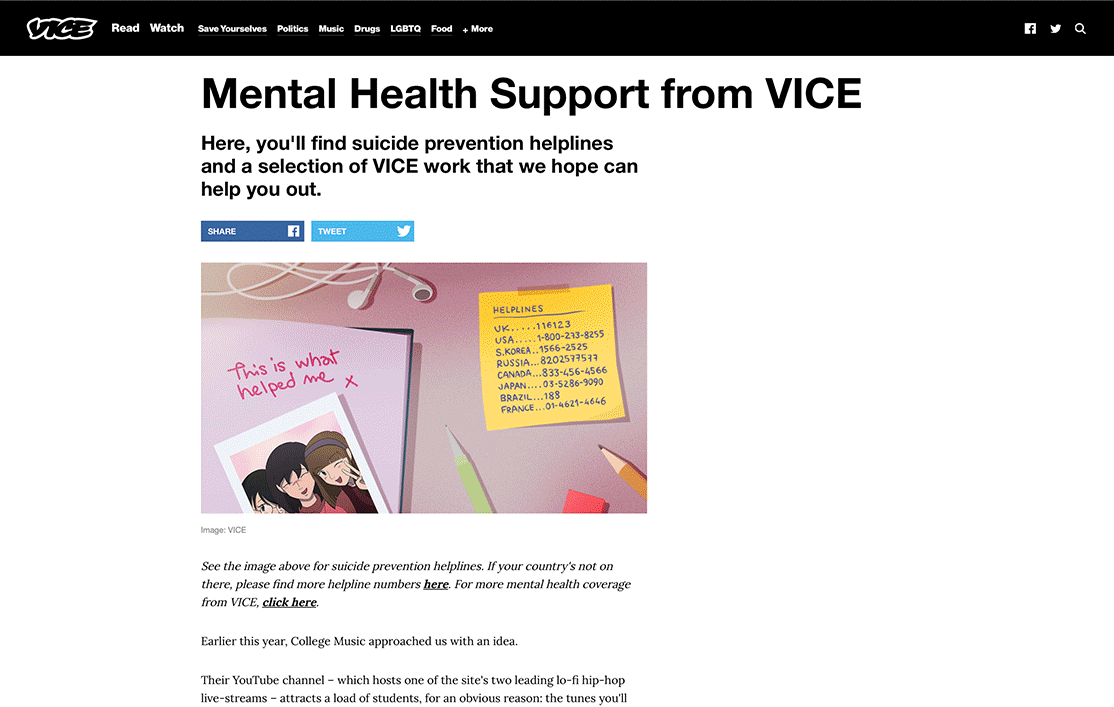 Online
Video
Following the live event, we uploaded a separate video that hit over 1M views within the first week and got thousands to open up about their mental health. (

click here

)
---------- Results ----------
19%
requested prevention helplines
130K
clicks on
VICE support articles

Hundreds opened up & decided to live
------------------------------
---
Awards
*D&AD – Yellow
*D&AD – Wood
*D&AD Impact – Wood
*

C

annes Lions - Bronze x 2

*Cannes Lions - Shortlist
*Creative Circle – Gold x 2
*Creative Circle – Silver
*Clio Awards - Bronze
*One Show – Bronze
*One Show – Merit x 2
*Eurobest – Silver x 2
*Eurobest – Shortlist x 2
*Epica Awards – Gold
*British Arrows – Gold
*British Arrows – Shortlist
*LIA Awards – Gold
*LIA Awards –
Silver
*LIA Awards – Bronze
*Lovie Awards – Silver
*Lovie Awards – People's Vote
*Lovie Awards – Lovie for Good